HD Radio is free over-the-air digital radio.  KTRU is now broadcasting on 90.1 HD-2.  You can hear this digital version of KTRU with no subscription fees!  All you need is an HD radio receiver!  HDRadio.com also provides an on-line buyers guide.
Learn more about KTRU on 90.1 HD2 from our FAQ!
Interested in how it works?
Basically, digital radio works the same as conventional radio. There's a signal on one end and a receiver on the other. But there are a few key differences.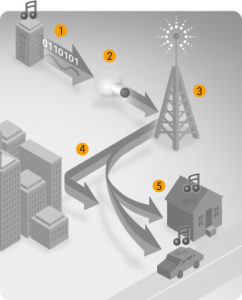 [1] Instead of sending out one analog signal, stations send out a bundled signal – both analog and digital.  In this case, KPFT is bundling the KTRU audio for listeners to enjoy on 90.1 HD2.
[2] The combined analog and digital signals are transmitted.
[3] Inevitably, radio signals bounce off objects, causing what is called multipath distortions. This is what causes the static in conventional radio receivers. HD Digital radio receivers are designed to sort through reflected signals, reducing static, hiss, pops and fades.
[4] Finally, the signals reach their destination. Both broadcasts are free, with no subscription fee. To hear the digital broadcast, all you need is an HD Radio receiver.