BANKS returned to Houston last Wednesday, September 22nd, 2017 on her
headlining tour supporting her sophomore album, The Altar, that came out almost
exactly a year ago. One of her first performances of this new album was at Day
for Night Fest last year, where I was front row for her set and completely
surprised and mesmerized by her visual interpretation of her lyrics.
This recent show at Warehouse Live was no different – after a brief poem
recitation, two veiled dancers flanked her side as she glided quietly on stage,
also veiled. Then, BANKS sharply removed her veil and intensely yelled into a
heavily synthesized and low-pitched second microphone to start the show with
"Poltergiest." She artfully moved between this synthesized microphone and a
normal one while synchronizing her movements to the dancers' choreography.
The first three songs performed, some of the most bass-heavy, fast-paced, and
intense songs of The Altar, had a sharp movement to every beat – the pulsing of
bent limbs, expressive finger gestures, and unfazed expressions of the dancers
and BANKS was reminiscent of a darker, modern dance rendition of Swan Lake,
only from Odile's perspective this time.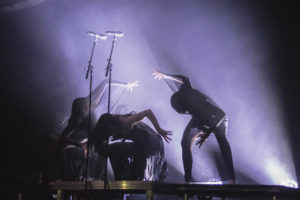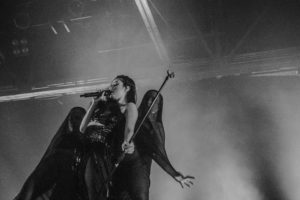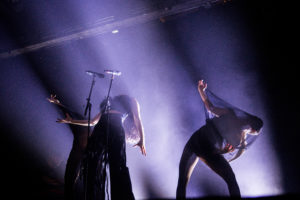 Before continuing on with her set, BANKS took the time to express her desire to
show Houston some love after Hurricane Harvey. In fact, all the proceeds of her
merchandise that evening were going to the Hurricane Harvey Relief Fund. After
such an intense, fierce, and almost intimidating introduction to her set with
nothing held back on production, the delicacy and lightness of her voice
reminded the audience of her warm personality.
The rest of her set displayed this balance of lightness and darkness: while her
costuming, lights, and choreography for her songs on The Altar represented
BANKS' personal and musical development as a more outwardly confident and
unapologetically honest artist, the texture and rawness of her emotions were
highlighted on songs she sung from Goddess that did not have much vocal
backing or instrumentals like "Waiting Game."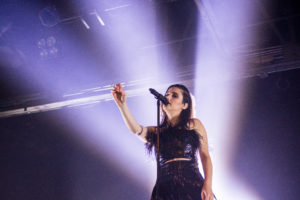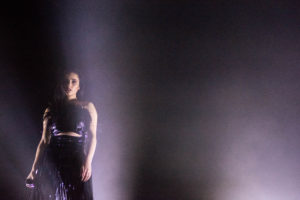 While album reviews for BANKS have criticized her music for being too insularly
focused on heartbreak and relationships and her voice/sound simultaneously
being too risky or generic, I personally enjoyed seeing the emotional arc of my
past failed relationships displayed out loud. The textures and contortions of her
large vocal range and movements display an honesty and rejection of "perfect"
sounding breakup anthems, which I appreciated.
This extremely personal connection to her music contextualizes the immense
audience support she received during the entire show. During "Drowning," I
heard groups of girls around me expressing a time when they played this song in
their rooms trying to get over their recent ex ("oh man, I can't even listen to this
song anymore after [insert name here].") On the other hand, during her hit
"Begging for Thread," a smile broke out on BANKS' face as the entire audience
held onto every lyric, chanting it out loud as a sort of cathartic, empowering
release from the emotional lows that once tormented them.
As Tattoo.com's Jessica Golich accurately writes, BANKS is "artistically erratic,
choppy, restless, spasmodic, and disciplined." The artfulness and thoughtfulness
in her music was not lost on her live performance, something that was equally
crafted to intensify the audience's inner thoughts and feelings while
simultaneously empowering them to move forward with confidence.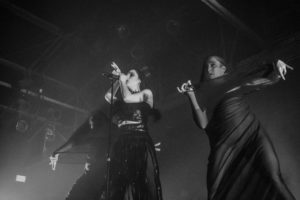 You can check out BANKS' music here.
Review by ElaineS