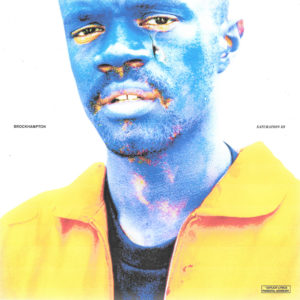 By Ben Jones
Brockhampton is nothing if not ambitious. The group of more than a dozen rappers and musicians, led by Texas native Kevin Abstract, is the self-proclaimed greatest boy band in the world. On Wednesday night, playing to a packed crowd at House of Blues, Brockhampton proved they more than lived up to the title.
Brockhampton's perfectly-crafted pop hooks and infectious neo-soul beats, masterminded by producer Romil Hemnani, speak for themselves. The band had no need for an opening act, DJ set, or other frivolous ceremony. The show began with Woodlands-raised MC Ameer Vann, standing alone and motionless onstage, beaming over a sea of fans churning to the frenetic saxophone riffs of "BOOGIE."
Brockhampton is more than the sum of its parts. The band's MCs propelled each other to greater and greater heights throughout the night, with Vann's deep-voiced growl counterpointing Joba's crazed falsetto, and Dom McLennon's ratatat flow pairing naturally with Merlyn Wood's staccato shouts. With Kevin Abstract at the helm, the group's chemistry shined on posse cuts like "BLEACH" and "SWEET." Many of Brockhampton's MCs are from the Houston area, and their shoutouts to Beyonce, Whataburger, and suburban high schools were received avidly by a crowd not far removed in either age or experience from their idols on stage.
While Houston may have been in the middle of a deep freeze, the boiling crowd inside poured out gallons of sweat dancing to the smooth R&B grooves of "TOKYO" and the booming drums of "HEAT." The depth of Brockhampton's catalogue, which includes three full-length albums from 2017 alone, is astounding. Just when it seemed that the crowd had reached a breaking point of heat exhaustion and dehydration, the band would serve up another banger. The late-set debuts of "GOLD"'s irresistibly sexy rhythms and "QUEER"'s rabid beat drop provided a much-needed resurgence of excitement.
"Turned rap into the new pop," Ameer brags on "JELLO," and he seems to have accomplished just that. In 2017, a year when hip hop overtook pop on Billboard charts, Brockhampton emerged almost out of nowhere to massive acclaim. Their fans in Houston knew every word of the band's lyrically dense tracks, and ate up every second of the show. Even the pre-encore interlude, a melodramatic guitar ballad delivered by Brockhampton's resident pretty boy Bearface, prompted screams and singalongs. When the group returned for the encore, they performed "STAR" not once, not twice, but three times, with the crowd getting more manic with each delivery.
When Brockhampton last came to Houston, they sold out Warehouse Live's Studio. This time, they crammed the main room at House of Blues. Whenever promoter Scoremore Shows brings them back, they are certain to sell out an even bigger venue. As they proved on Wednesday, Brockhampton's boy band star is certainly on the rise.