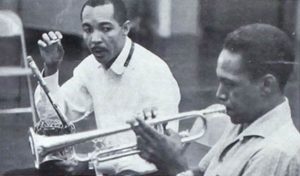 (Harold Land and Dupree Bolton)
It's Tuesday night and you need some good music to get you to Wednesday.
Harold Land was one of the great Tenor Saxophonists of his time, born right here in Houston but raised in L.A.- a player who thrived in the late 50s scene of Clifford Brown and Max Roach's new Hard Bop, and stayed groundbreaking through the 70s, finding new paths to pave with Bobby Hutcherson. A player who arguably, never made a bad record. So for tonight, let's dig on his 1959 classic LP, "The Fox" (Hi Fi Jazz).
A smokin' hard-bop session that seemed, with the breakneck speed of the title track, out to prove that West Coast cats weren't just laid-back, cool players, but could hang with anyone in the Easty-biased Jazz landscape. The band on the rekkid featured the great pianist Elmo Hope – a player worthy of a whole other post…(note to self, bring Elmo Hope rekkids to the show Sunday), West Coast drumming Legend Frank Butler and another player on the front line, trumpeter Dupree Bolton, who's fireworks were recorded only a couple of times, but who's left jazzheads mesmerized over time and in search of more.
Originally released with a gnarly and dark hand-painted cover by the small label Hi Fi Jazz, a copy of the original was up for sale at a local Houston record store recently for the modest price of $79.99. It's the only time we've seen it in the wild. Popsike.com shows the record can go for nearly $400.00 in good shape. Here's the cover: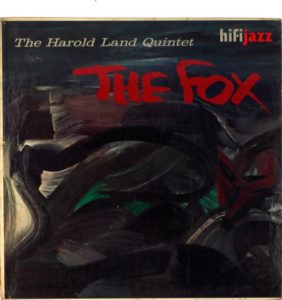 But the album is better known for Contemporary Records' reissue cover:
So for some Tuesday Night music, dig this one.
And for more from elusive trumpet man Dupree Bolton…you got to hear this modal classic: