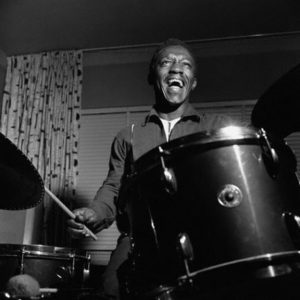 Happy Birthday to Art Blakey!
"The guru of hard bop, whose famous technique — frequent, high volume snare with bass drum accents — made him one of jazz's all-time best messengers."
As the leader of the Jazz Messengers, Blakey earned a reputation as a mentor for some of the greatest talent in the history of jazz – from Benny Golson and Lee Morgan, to Freddie Hubbard and Wayne Shorter, Woody Shaw, Billy Harper, Wynton Marsalis, Horace Silver, Bobby Timmons, Cedar Walton…the list goes on and on and on. Blakey's Hard Bop fingerprints are on an almost unbelievable amount of 20th century American music. He played with everyone – Charlie Parker, Dizzy, Miles, Coltrane, Monk, Bud Powell…and for 30-some years, he really never made a bad record. His live 80s sets are proof! He was still swingin' to the end – he was even on The Cosby Show!
Art Blakey and The Jazz Messengers' original records still command high prices on Ebay today – because the music was so incredible and timeless.
We say Happy Birthday to the man they called Bu (short for Buhaina) who's music we love so much by sharing some of our favorites from throughout his career. HBD!
(1947  – Blakey on drums for the original recording!)
(1954 – w/ Blakey on Drums!)