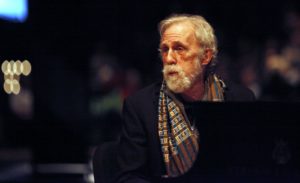 Pianist Ran Blake is coming to Houston.
The avant-garde/Third Stream legend, whose name has been well known in jazz circles since the mid-50's, will be performing this Saturday, January 7 at the Live Oak Friends Meeting House, at 1318 West 26th St, HTX. Doors open at 4:30pm. Concert begins at 5pm (on time) in order to coincide with the sunset and James Turrell's Skyspace. Admission is FREE. For more info visit Nameless Sound here.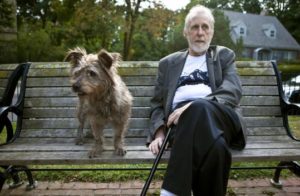 Sunday Jazz Show DJ Achim will be there and he is VERY excited. He would not miss it.
Some background from Wikipedia, with musical/visual aids from your friends at KTRU Sunday Jazz:
"Beginning in the late 1950s, Blake was part of a duo with vocalist Jeanne Lee. Together they recorded his first album The Newest Sound Around, which was released on RCA in 1962…The album shows Blake's signature style beginning to develop, as they paid homage to Blake's early influences with a tribute to David Raksin's "Laura" and a reworking of the gospel standard, "The Church on Russell Street"." (wikipedia)
"Blake met Gunther Schuller in a chance encounter at Atlantic Records in 1959. Recognizing Blake's talent, Schuller asked him to study at the School of Jazz in Lenox, Massachusetts.
Blake met jazz pianist, composer, and arranger Mary Lou Williams during a performance at The Composer, a New York nightclub. She later became a mentor and a significant influence on his work. During his time as a student at Bard, Blake often traveled to see Williams perform and to take lessons from her. Later, Williams and Blake worked together while she was a visiting faculty member at the School of Jazz." (wikipedia)
"In 1966, Blake released his first record as a soloist, Ran Blake Plays Solo Piano, on New York-based label ESP Disk.

In 1967, Schuller, president of the New England Conservatory, recruited Blake to fill a faculty position as the Conservatory's Community Services Director. In this position, Blake was responsible for putting on concerts in prisons, retirement homes, and community centers. Blake remained in this role until 1973, when he took on the chairmanship of the new Third Stream Department (now Contemporary Improvisation) at the New England Conservatory, an initiative he started with Schuller.
Schuller coined the phrase "Third Stream" in 1957 during a talk at Brandeis University. According to Schuller, Third Stream is "a new genre of music located about halfway between jazz and classical music". This new genre was created, in Schuller's opinion, to combat purists in both the jazz world and the classical world: to play Third Stream music, one had to be proficient in both. When Schuller met Blake, two years after creating Third Stream, Blake's blend of influences, from free form jazz and gospel music to classical composition and film noir soundtracks, appealed to him. When the two of them created the new department at the NEC, it was natural that Blake would be the chairman. He remained in that position until 2005. He is still a faculty member at the New England Conservatory.
Musicians Don Byron, Matthew Shipp, John Medeski, Grayson Hugh and Yitzhak Yedid have studied with Blake at NEC. He was awarded a Guggenheim Fellowship for composition in 1982, and a MacArthur Genius Grant six years later. At the NEC, he teaches composition classes, as well as a seminar on performance and a special class on film noir, his earliest inspiration.
He has collaborated with a number of other musicians, including Jaki Byard, Houston Person, Steve Lacy, Clifford Jordan and Christine Correa." (Wikipedia)
Hope to see you there!
Be sure to tune in on Sunday.
KTRU Sunday Jazz airs every Sunday, from 2 to 7 p.m. central, on 96.1 FM Houston and live online at ktru.org.