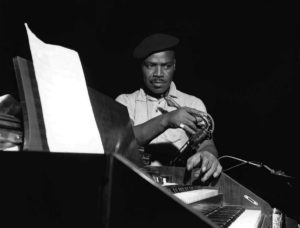 (Ike Quebec)
The playlist for last Sunday's 2-5pm set is up on YouTube – Click Here! Killer set featuring Clifford Brown, Sonny Stitt, Jaki Byard and a rare John Coltrane interview from 1960.
It's Wednesday and you need some good jazz to get you to Thursday. Here's what we got: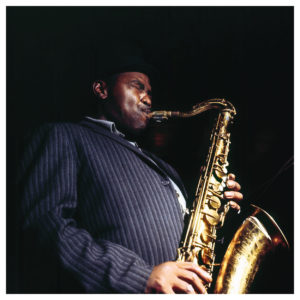 "Influenced by Coleman Hawkins and Ben Webster but definitely his own person, Ike Quebec was one of the finest swing-oriented tenor saxman of the 1940s and '50s. Though he was never an innovator,Quebec had a big, breathy sound that was distinctive and easily recognizable, and he was quite consistent when it came to came to down-home blues, sexy ballads, and up-tempo aggression. Originally a pianist, Quebec switched to tenor in the early '40s and showed that he had made the right decision on excellent 78s for Blue Note and Savoy (including his hit "Blue Harlem"). As a sideman, he worked with Benny Carter, Kenny Clarke, Roy Eldridge, and Cab Calloway. In the late '40s, the saxman did a bit of freelancing behind the scenes as a Blue Note A&R man and brought Thelonious Monk and Bud Powell to the label. Drug problems kept Quebec from recording for most of the 1950s, but he made a triumphant comeback in the early '60s and was once again recording for Blue Note and doing freelance A&R for the company. Quebec was playing as authoritatively as ever well into 1962, giving no indication that he was suffering from lung cancer, which claimed his life at the age of 44 in 1963." (AMG)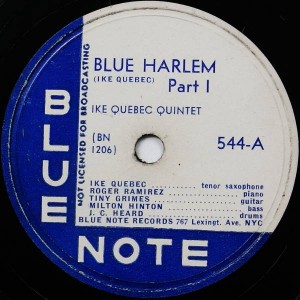 (Ike Quebec Quintet – "Blue Harlem Part 1" b/w "Tiny's Exercise" – Blue Note – BN206 – Shellac 12″, 78 RPM – Released: 1944-45)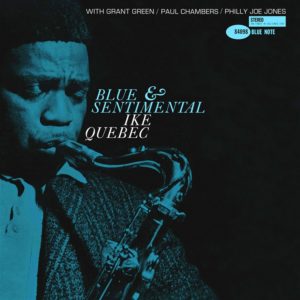 Ike Quebec's 1960 masterpiece "Blue & Sentimental" was recently reissued on vinyl for a reasonable price, for the first time in a long time. Featuring the work of three giants in their own right, all probably bigger and better known names, Grant Green, Paul Chambers and Philly Joe Jones, "Blue & Sentimental" was a late career slam-dunk, "…[a] signature statement…[a] superbly sensuous blend of lusty blues swagger and achingly romantic ballads…[his] most exquisitely perfected [record]. (AMG).
Get some chicken soup (and whiskey) for the soul, it's almost Friday, almost: