It's Tuesday and you need some good jazz to get you to Wednesday.
On the whole, we normally don't truck too much big band. By definition, the big band format goes against a lot of what makes many of us fall in love with jazz in the first place – the improvisation, the lack of boundaries, the never-playing-it-the-same-way-twice-ness. Usually Big Band loses all of that in the charts on the music stand in front of the stiff players on stage. But, as with all rules, there's exceptions.
There's a new Thad Jones-Mel Lewis Orchestra 2xCD out that documents the first ever performance of the band, from 1966 at the Village Vanguard. This was a ground-breaking band in a lot of ways. But the easiest way to put it was this: Thad Jones (trumpeter and leader, brother to Hank and Elvin) had never written big band charts and had always played in small combos. He learned as he went and wrote what he felt, he didn't "orchestrate." And the cats who played with them all came to the band with the same vibe. All these cats could PLAY.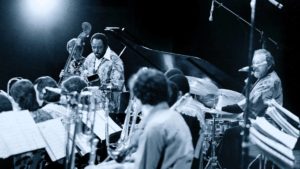 (The Thad Jones-Mel Lewis Orchestra)
Not all Big Bands are created equally. Google Houston's own historic Kashmere Stage Band for starters…
Try these ones on for size. It's almost Wednesday:
Can't even have this post without posting some Basie – Pops would never forgive me.