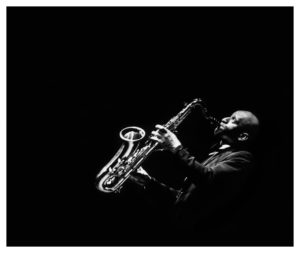 Sonny Rollins
It's Wednesday. Pat yourself on the back. You're getting there. You need some good jazz to get you to Thursday. We got you.
First – the YouTube playlist from last Sunday's show is UP! Find it HERE.
Now.
Sonny Rollins is generally considered one of the all-time great tenor sax players. A giant of the instrument, wildly influential over multiple generations and still putting out critically acclaimed records today (check out his Road Shows series the last few years). Perhaps part of why he's been able to remain so fresh and groundbreaking is because he knows when to take a break. His two most notable absences came at the end of the 50s and the end of the 60s.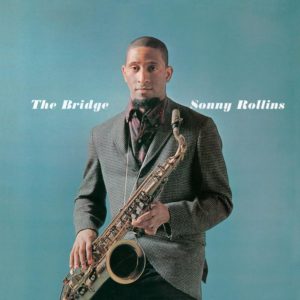 Rollins' 1962 Classic, "The Bridge"  on Bluebird Records
"In 1959, feeling pressured by the unexpected swiftness of his rise to fame, Rollins took a three-year hiatus to focus on perfecting his craft. A resident of the Lower East Side of Manhattan with no private space to practice, he took his saxophone up to the Williamsburg Bridge to practice alone: "I would be up there 15 or 16 hours at a time spring, summer, fall and winter". His first recording after his return to performance took its name from those solo [practice sessions]. Critical reception to the album, which was not the revolutionary new jazz approach many expected, was mixed. Rollins, who had been considered groundbreaking in his thematic improvisations, was supplanted in critical buzz by the growing popularity of Ornette Coleman's free jazz." [AMG]
That said, over time "The Bridge" (Bluebird, 1962) has since become agreed as a classic in Rollins' storied catalog and is arguably (in this writer's opinion) his finest album. You can listen to it HERE.
Japanese edition of Rollins' '72 comeback album, "Next Album" on Milestone Records
His next notable break came in 1966, when he took a six year "retirement," likely as a break from touring and to see where he wanted to go musically. '66 was certainly a time when jazz was in major flux, with fusion just around the corner and Free Jazz in full tilt boogie. In '72 he returned with "Next Album" (Milestone Records), in a simple quartet structure, with George Cables playing both electric and acoustic piano, Bob Cranshaw on bass and Jack DeJohnette on drums. The album opened with a simple, but wildly enjoyable cut "Playin' In The Yard." The electric tones likely spurned critics at the time, hoping for a savior to come in railing against electricity in jazz – by '72 fusion was all but everywhere –  and thumping an acoustic chest. He kinda did and kinda didn't. At only five cuts long, every track is a searcher, and he takes on classics like "Poinciana" and "Skylark." But the opener, with Cables and Cranshaw's heavy-handed thump, is a stone killer for not only sample-searching hip-hop heads, but for anyone digging jazz with a groove. A modal roller, "Playin' In The Yard" was later covered by Hampton Hawes on a live trio set at Montreux (can't find the video on YouTube but its another great take) and has been sampled by a number of rappcats.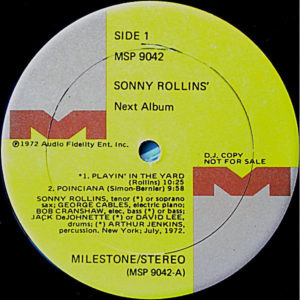 We'll spin the wax on the show this Sunday – 2pm. Be There.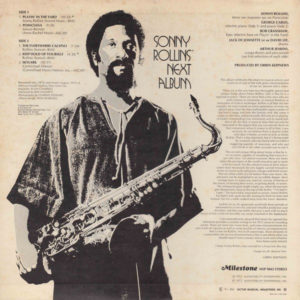 The righteous Rollins back cover for "Next Album."
It's Wednesday. Almost Thursday. See you on Sunday. 96.1 FM Houston and online live here at ktru.org.
Check us on IG at https://www.instagram.com/mingus.sushi/