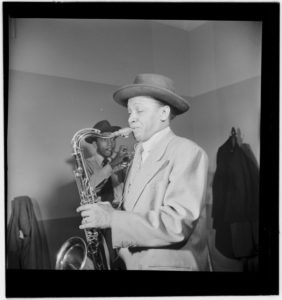 If you tuned in to the show this past Sunday (YouTube playlist is up! HERE), you may have heard that we're doing a series of posts this week on Texas Tenors.
What is a Texas Tenor?
There's a brotherhood of tenor saxophone players from in and around the Lone Star State who, over time, have been grouped together for their similarity in sound – to a point – a style that over the years has become known plainly as the Texas Tenor.
"The Texas Tenor style" is defined by Ted Gioia in The History of Jazz as "a blues-drenched tenor sax style … characterized by honking', shoutin', riffin', riding high on a single note or barking out a guttural howl."
Cannonball Adderley once described the Texas sound as "a moan within the tone."
This week we'll be talking Texas Tenors and posting some tunes. Can you dig it?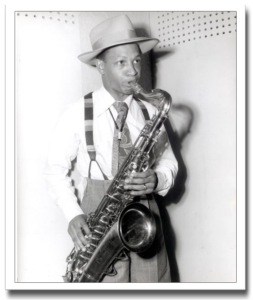 (Illinois Jacquet)
We started Sunday's show with a groover from Texas Tenor legend Illinois Jacquet. The cut, "Cool Bill" comes from a 1957 album on Verve Records called "Illinois Jacquet and His Orchestra," featuring Gerry Wiggins on organ, Sweets Edison on trumpet, and Curtis Counce on bass, along with others:
"Jacquet was born to a Black Creole mother and father, named Marguerite Traham and Gilbert Jacquet, in Louisiana and moved to Houston, Texas, as an infant, and was raised there as one of six siblings. His father, was a part-time bandleader. As a child he performed in his father's band…At 15, Jacquet began playing with the Milton Larkin Orchestra, a Houston-area dance band. In 1939, he moved to Los Angeles, California, where he met Nat King Cole. Jacquet would sit in with the trio on occasion. In 1940, Cole introduced Jacquet to Lionel Hampton who had returned to California and was putting together a big band. Hampton wanted to hire Jacquet, but asked the young Jacquet to switch to tenor saxophone."
"In 1942, at age 19, Jacquet soloed on the [Lionel] Hampton Orchestra's recording of "Flying Home", one of the very first times a honking tenor sax was heard on record. The record became a hit. The song immediately became the climax for the live shows and Jacquet became exhausted from having to "bring down the house" every night. The solo was built to weave in and out of the arrangement and continued to be played by every saxophone player who followed Jacquet in the band…It is one of the very few jazz solos to have been memorized and played very much the same way by everyone who played the song. He quit the Hampton band in 1943 and joined Cab Calloway's Orchestra."
An absolute classic of the American Jazz Canon, here's the original 1942 recording of "Flying Home," a massive hit. Dig Jacquet's tenor solo (along with Ernie Royal's screamin' trumpet), which set the world on fire…an origin of the Texas Tenor Sound:
Jacquet continued to make great records for years to come. Here's just a few to look for: