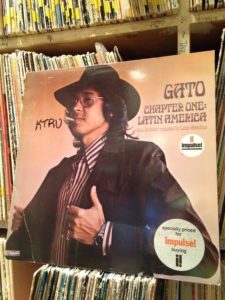 (One from the KTRU Archives: Gato's stunner, "Chapter One: Latin America (Impulse!) )
This weekend's Sunday Jazz Show had a rain cloud hanging over it, as we mourned the loss of Saxophone legend Gato Barbieri, who died Saturday at the age of 83.
Leandro Barbieri (November 28, 1932 – April 2, 2016), better known as Gato Barbieri (Spanish for "The Cat"), was an Argentine jazz tenor saxophonist and composer who rose to fame during the free jazz movement in the 1960s and is best known for his Latin jazz recordings of the 1970s.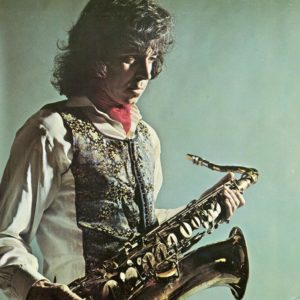 He played the clarinet and later the alto saxophone while performing with the Argentinean pianist Lalo Schifrin in the late 1950s. By the early 1960s, while playing in Rome, he also worked with the trumpeter Don Cherry. By now influenced by John Coltrane's late recordings, as well as those from other free jazz saxophonists such as Albert Ayler and Pharoah Sanders, he began to develop the warm and gritty tone with which he is associated. In the late 1960s, he was fusing music from South America into his playing and contributed to multi-artist projects like Charlie Haden's Liberation Music Orchestra and Carla Bley's Escalator Over The Hill. His score for Bernardo Bertolucci's film Last Tango in Paris earned him a Grammy Award and led to a record deal with Impulse! Records.
By the mid-70s, he was recording for A&M Records and moved his music towards soul-jazz and jazz-pop. Caliente! (1976) included his best known song, a rendition of Carlos Santana's "Europa". The follow-up album, Ruby Ruby (1977) were both produced by fellow musician and label co-founder, Herb Alpert.
Although he continued to record and perform well into the 1980s, the death of his wife Michelle led him to withdraw from the public arena. He returned to recording and performing in the late 1990s with the soundtrack for the film Seven Servants by Daryush Shokof (1996). The album Qué Pasa (1997) moved more into the style of smooth jazz.
Barbieri received the UNICEF Award at the Argentinian Consulate in November 2009.
In the second set, DJ Achim payed tribute to an artist he attributes to getting him into jazz himself, as a teenager in Germany, via Barbieri's 1973 album "Under Fire" (Flying Dutchman).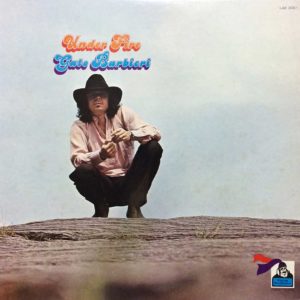 Achim opened the show accordingly, with the song "El Parana" from that record. LINK: https://www.youtube.com/watch?v=scKRl61wxNw
Later he played cuts from Barbieri's biggest hit record, the soundtrack to "Last Tango In Paris" (UA, 1972). LINK: https://www.youtube.com/watch?v=41A-hN89m4I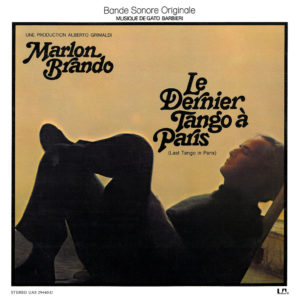 He ended the Gato tribute for the day with a cut from Barbieri's record named for his wife, "In Search Of The Mystery / Michelle," from  the ESP album "In Search of The Mystery." LINK: https://www.youtube.com/watch?v=g1MljXoNxlQ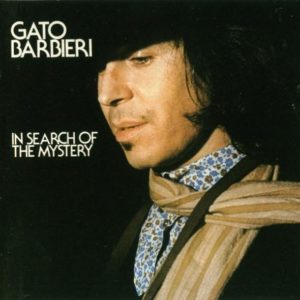 Barbieri was beloved around the world for his fiery playing and his soulful approach.
He was immortalized as very few have been before, when The Muppet Show fashioned their own saxophone player "Zoot," in Barbieri's own image.
Through music and Muppets, he'll live forever.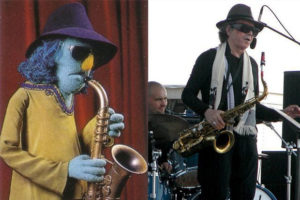 Peace Brother Gato!
What About The First Set?
You can listen to a YouTube playlist of DJ Sam's first set by clicking HERE: https://www.youtube.com/playlist?list=PLDFepdcuTsgO5qHnkMwfA4b46vS2k8UTh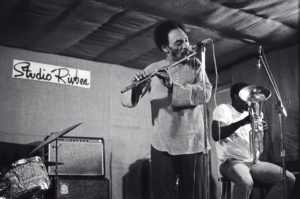 (DJ Sam played Sam Rivers' cut "Paean" in the first set of the Sunday Jazz Show)
KTRU SUNDAY JAZZ: Every Sunday, 2pm to 7pm on 96.1 FM and online at KTRU.org.