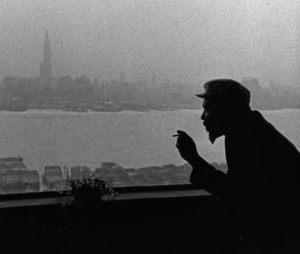 Jazz icon Thelonious Monk once said "writing about music is like dancing about architecture."
Sometimes the music's so good, you can't help but dance.
On April 22, for Record Store Day 2017, Resonance Records will release for the first time ever, Thelonious Monk's complete 1959 studio recordings made for the French film "Les Liaisons Dangereuses."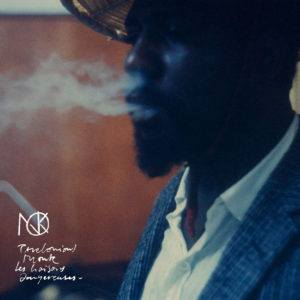 The cover alone gives us goosebumps. 
"Thelonious Monk's soundtrack to Les liaisons dangereuses, the provocative French film directed by Roger Vadim, will be released as a double album this spring. Arriving in a year of centennial tribute to Monk, the genius pianist and jazz modernist, it registers as a fresh discovery: while this music was recorded in 1959, it has never been available outside the context of the film, which is out of print." – NATE CHINEN at wbgo.org (read their whole piece HERE)
You can listen to the track "Rhythm-a-Ning," courtesy of wbgo.org, HERE.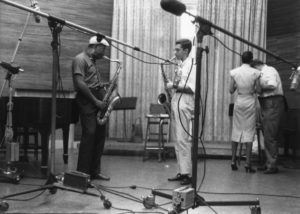 Two Tenors: L-R Charlie Rouse & Barney Wilen
The session for the record took place at Nola Penthouse Sound Studios on West 57th Street in New York, in the summer of '59. The group is Monk's working Quartet of the time, with his right arm, tenorman Charlie Rouse, along side bassist Sam Jones and legendary drummer Art Taylor. The twist here is that French tenor player Barney Wilen joins in as well. Wilen, only 23 years old at this point, is less known to American audiences, but a great player, well respected in his time and leader on a number of classic sessions. And good enough to get studio time with the High Priest himself.
By now you probably know about Record Store Day – "an annual event inaugurated in 2007 and held on one Saturday every April to celebrate the culture of the independently owned record store." Record labels distribute store-only copies of special releases, encouraging fans to get offline and back into brick & mortar shops. It's worked in a lot of ways. And while some releases feel a little forced, some are pretty exciting. Never-before-heard live recordings, or demos or long-out-of-print albums being brought back to light.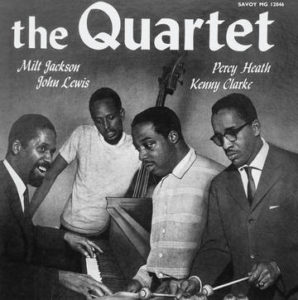 This early Modern Jazz Quartet LP on Savoy Records was re-released for RSD 2016
For us jazz fans though, Record Store Day can often feel pretty damn thin. There's been some cool stuff over the years. Curtis Fuller's "Blues-Ette" on Savoy a few years ago is one that flew under a lot of people's radar, and it's a brilliant album; one of the best of the 50's (there's still plenty of copies floating around locally, for cheap). The Coltrane 10″ of Roulette recordings last year was cool, if a bit short. The Charlie Parker Story was an essential you need for your jazz library. If you were lucky or smart enough to get a vinyl copy of Resonance Records' absolutely brilliant Bill Evans release, "Some Other Time," a previously unreleased studio recording from 1968, you're doing good on margin. The LP retailed for around $35 on RSD. Currently on discogs.com, a near-mint copy can be had for around $200 or more. So some of these are just good value-plays. (The 2xCD copy can be easily had for cheap on Amazon, and it is absolutely worth it, KTRU Sunday Jazz-approved).
A lost studio recording by the 1968 version of the Bill Evans Trio, arguably one of the finest jazz releases in years. 
 But what made that Evans release so special in the end, were a few factors:
1) An important, even iconic artist
2) A full-length studio recording – not a poor quality live show bootleg – but studio quality recordings. Hi-Fidelity.
3) Never-Before-Heard until now. Music that even the most ardent fans, haven't yet heard.
The Evans release was special. We just don't get these kinds of treats very often.
It's these same factors that make the news of the new Thelonious Monk release so exciting.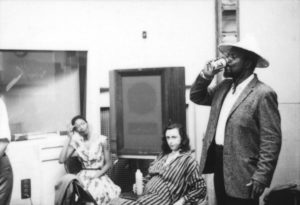 Monk in the studio slugging a cold beer, with his dear friend and muse, Pannonica de Koenigswarter (center)
While the Record Store Day LPs will surely disappear quickly, the CD is scheduled for wide release this May.
We will be watching the clock waiting for one more month to pass. But in the meantime, here's some Monk to help get you through the week: