KTRU celebrates 50 years of radio at Rice University in 2017. This celebration from April 16 – April 22 will include a number of on-air and live events. Alumni interested in traveling to Houston for our celebration are encouraged to attend the events on Friday, April 21 and Saturday, April 22.
KTRU alumni are also encouraged to:
Friday, April 21:
Jandek
Rice University's Hamman Hall
8:00 p.m.
Doors at 7:00 p.m.
Free concert, all ages, open to the public
Seating priority to KTRU DJs and alumni as well Rice University students, faculty, and staff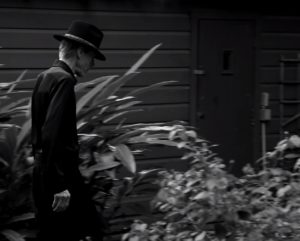 Jandek is the musical project of Corwood Industries, a record label that operates out of Houston, Texas. Since 1978, Jandek/Corwood Industries has independently released over 100 albums/DVDs of unusual, often emotionally dissolute folk, rock, and blues songs without ever granting an interview or providing any biographical information. Jandek often plays a highly idiosyncratic and frequently atonal form of folk, rock, classical and blues music, at times using an open and unconventional chord structure. The name "Jandek" is most commonly used to refer specifically to the project.
Social gathering and happy hour (KTRU DJs and alumni): 5 p.m. – 12 a.m. in Willy's Pub
Midnight Croquet and Social DJ Shift (KTRU DJs and alumni): 12 a.m. – 1 a.m.
Saturday, April 22:
26th Annual KTRU Outdoor Show, which will take place from 2 p.m. to 9 p.m. on the Rice University Central Quad.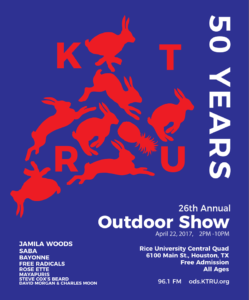 Sunday, April 16 – Saturday, April 22:
On-air guest DJ appearances by local artists:
The Suffers

The Tontons

Free Radicals

Rose Ette

Say Girl Say

Ruiners

More to be announced
On-air guest DJ shifts for KTRU alumni: sign-up coming soon!