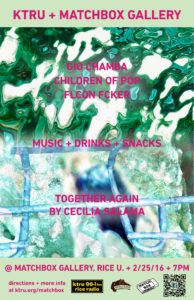 KTRU Rice Radio- 96.1 FM and Matchbox Gallery present:
GIO Chamba / children of pop / FLCON FCKER.
2/25 at 7pm.
At the Sewall Hall Courtyard outside Matchbox Gallery.
FREE SHOW, All-Ages for students and community members.
New Matchbox Gallery exbhition featuring artwork by Cecilia Salama.
Free drinks and food! Sponsored by Buffalo Bayou Brewery.
Check out the Facebook event.
Parking Info (see map):
Greenbriar Lot: $1 per entry per day (cheapest)
Founder's Court Lot: $1 per 12 min, $11 daily maximum (closest)
West Lot 1 : $1 per 20 min, $11 daily maximum
Central Campus Garage: $1 per 12 minutes, $11 daily maximum
Rice shuttles available from lots to event.