By Evan Flack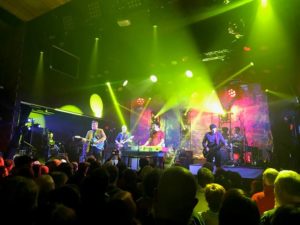 As I arrived at White Oak Music Hall 15 minutes before the doors were scheduled to
open I was not sure what to expect. While my 5 years old self might beg to differ, belting out
'Particle Man' with my parents in our living room did not really count as a TMBG concert. To
my delight, I found hundreds of eager fans of all ages anxiously lined up, waiting to secure prime
spots in the standing room only venue, and with good reason, we were all about to witness a
fantastic show. With a high energy new album, 3 additional backing musicians, and a 38 song
setlist, the band was not messing around. John Flansburg and John Linnell, collectively known as
"The Johns," have been doing this since 1982 and played perfectly off the inevitable fact that
some portion of the audience was unaware of the groups 2018 release "I like Fun." The show
featured six tracks of the album, and even if only those in the front row were able to sing along,
the rest of the crowd was clearly getting into driving tracks such as my personal favorites "I left
my Body" and "All time What." But for fans of older material there was no reason to worry,
"Doctor Worm" was able to send the crowd into a frenzy 45 minutes into the show.
After what the band described as a "New York" 15-minute break, the Johns returned to
the stage accompanied only by their drummer on the "magical" (read: electronic) set. I am
usually not the biggest fan of paired down live performances (I came to rock didn't I?), but the
more intimate setting allowed the two front-men to fully embrace their quirkiness which made
me grin from ear to ear. To some on-stage banter is a drawback, but with a group as funny as
TMBG, it could be a whole show in and of itself. I found myself craving to hear more about
Austin's "2:1 beard to people ratio," and how the Johns has recently discovered the acronym
"AF." Halfway through 'Istanbul (Not Constantinople)' the Johns made full use of the reverb
effect with a two-minute improvised acapella verse letting the audience know that no matter how
much you might want to be taken back to Constantinople, it is simply not an option. This also
happened to be the political segment of the show, as the band professed their support for William
Henry Harrison with 'Tippecanoe and Tyler Too" before declaring 'James K Polk' the greatest
ever US President.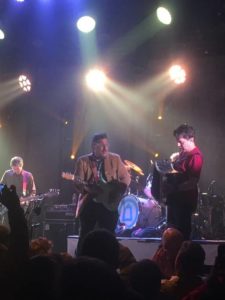 The show finished with a 5 song encore, which included "Birdhouse in Your Soul," and
"Twisting," both of which the crowd ate up and left me humming well into the next day. Even
though the band had played for 2:15, I was left wanting more. It was one of the more
professional small- to mid-sized venue shows I have attended, complete with psychedelic lights
and air-tight sound. In almost every song, at least one of the Johns would crack a childlike smile
which cut though their otherwise nonchalant personas; they looked like they were having a
genuinely having a fun time which was contagious to the audience. $30 dollars seemed like a
bargain for group that has been perfecting their act for over 30 years! The group will be on tour
throughout the US until May, before taking a short break and heading across the pond for a
limited number of dates in Europe. For any KTRU listeners outside of Houston, run (don't walk)
to buy tickets for when TMBG comes to town, some locations have already sold out. For those
of us in Houston, chances are we'll have to wait a few years, but who knows, we have some
pretty great festivals that could bring the group back to H-Town sooner rather than later.