navrang
Saturdays 10:00am - 12:00pm
The Navrang Show has existed since Spring 1992. Our goal is to introduce listeners to the diverse and enormous plethora of music from the Indian subcontinent and its worldwide diaspora. We play all kinds of music: Bollywood hits old and new, Indian classical, ghazals, Indipop, sufi, folk and Asian Underground.
Current Navrang DJs: Varsha V., Gaura K., and Justin L.
Navrang Artists @ KTRU Outdoor Show:
18th: Laya Taal Saadhna -Pt. Shantilal Shah
22nd: SwaraRagaLaya -Vidushi Rajrajeshwary Bhat
Navrang:
Nav – 'nine' and Rang – 'color'.
Indian music is based on nine rasa / emotions. The rasas are: Karuna ~ sadness, sorrow | Shringar ~ love, joy | Veer ~ heroism, valor | Hasya ~ laughter, comedy | Raudra ~ anger, fury | Bhayanaka ~ fear, horror | Vibhatsa ~ digust, aversion | Adbhuta ~ wonder, surprise | Shanti ~ peace, serenity.
Basic Glossary
South Asia, i.e. Indian Subcontinent = region including India, Pakistan, Sri Lanka, Bangladesh, Bhutan and Nepal (possibly Afghanistan and Myanmar?)
Desi meaning countryman in several South Asian languages, rhymes with racy, referring to all people of South Asian origin or descent
Brown person see Desi 🙂
Music Glossary
Asian Underground: Fusion of various Indian styles, and electronica, with Western beats and genres, originating in 2nd generation communities in UK, US etc.
Bollywood: Amalgam of Bombay + Hollywood, referring to India's immense Hindi film industry, churning out musical melodramas by the hundreds, also the source of most popular music.
Chutney: Fusion of Indian folk music (typically from Bihar) with Caribbean beats like soca and calypso, originating in the Indian diaspora in Guyana and Surninam. Wikipedia
Carnatic: Traditional Indian classical styles of Southern India
Ghazal: Style originating with Muslim rulers in India, derived originally from Middle East, exquisite love poetry in Urdu sung in North Indian styles
Hindustani: Traditional Indian classical styles of the Northern India/Pakistan
Indipop: Western-style pop by Indian performers, usually in Indian languages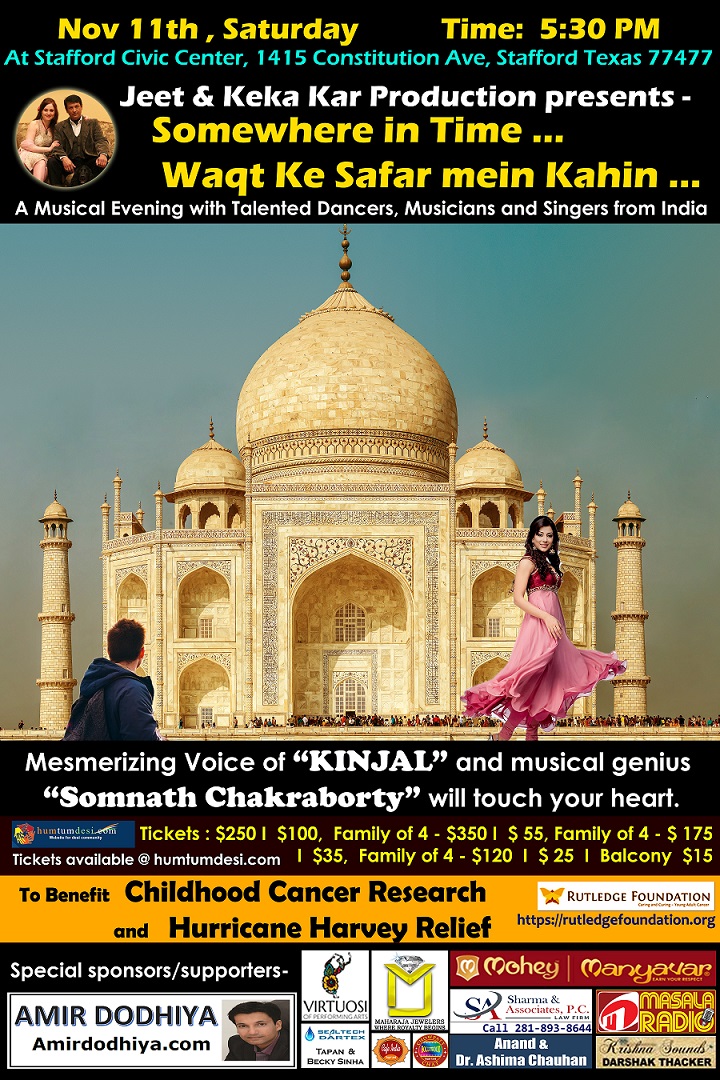 Everyone is invited to the entertaining Indian musical and Bollywood show on Saturday 11/11 @5:30pm, 1415 Constitution Avenue, Stafford, TX 77477. Talented Indian artists Kinjal and Somnath Chakraborty will perform live at the event *Waqt ke Safar Mein Kahin......
read more