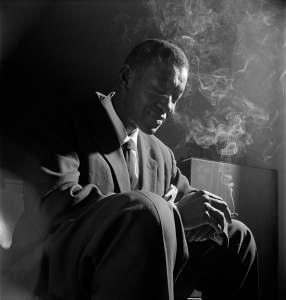 This past Sunday was heavy stacks for days. On the 2-5pm shift we went all over; from the Bourbon Street bang of the Dirty Dozen Brass Band, to London's Post-Bop at University College '66, to Brownie Live in Paris and much more. One of the pieces we were most excited to spin was a simple trio cut; a side from the great Herbie Nichols' last album, "Love Gloom Cash Love" (Bethlehem, 1957).
"One of jazz's most tragically overlooked geniuses, Herbie Nichols was a highly original piano stylist and a composer of tremendous imagination and eclecticism. He wasn't known widely enough to exert much influence in either department, but his music eventually attracted a rabid cult following, though not quite the wide exposure it deserved.
Nichols was born January 3, 1919, in New York and began playing piano at age nine, later studying at C.C.N.Y. After serving in World War II, Nichols played with a number of different groups and was in on the ground floor of the bebop scene. However, to pay the bills he later focused on Dixieland ensembles; his own music — a blend of Dixieland, swing, West Indian folk, Monk-like angularity, European classical harmonies via Satie and Bartók, and unorthodox structures — was simply too unclassifiable and complex to make much sense to jazz audiences of the time…He signed with Blue Note and recorded three brilliant piano trio albums from 1955-1956, adding (the) one for Bethlehem in late 1957. Nichols languished in obscurity after those sessions, though; sadly, just when he was beginning to find a following among several of the new thing's adventurous, up-and-coming stars, he was stricken with leukemia and died on April 12, 1963." (AMG). The cut we played was called "Every Cloud."
It's not hyperbole to say that Nichols' name belongs in the conversation with others like Bud Powell, Monk, McCoy Tyner; if for nothing else his unwavering originality in playing and writing. Absolutely a favorite of the Sunday Jazz Show. It's pricey, but Nichols' Complete Blue Note Recordings are worth the plunge, either digitally or a hard copy. Keep an eye out for it. KTRU Jazz Stamp of Recommendation.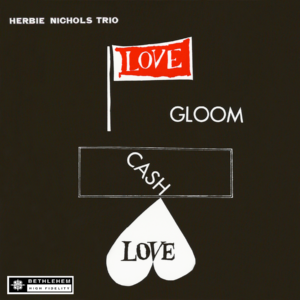 You can listen to a playlist of the WHOLE FIRST SET on YouTube.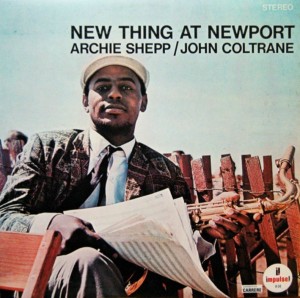 On the second set, DJ Achim highlighted one of the most influential live records ever recorded; from 1965, the joint effort LP of John Coltrane & Archie Shepp's "New Thing at Newport." Achim played Archie Shepp's "Gingerbread, Gingerbread Boy" first, and later played Coltrane's fiery reading of "My Favorite Things" to close out the show for the evening. You can listen to both cuts and the rest of the album here.