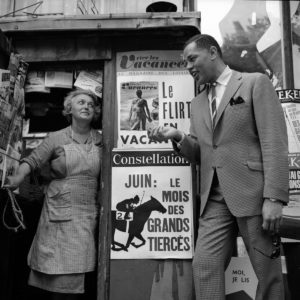 (Dexter Gordon in France, circa 1960)
On the Jazz Show Sunday we celebrated, albeit a touch belatedly, what would have been the 93rd birthday of tenor sax legend Dexter Gordon (2/27/23-4/25/90). Long Tall Dexter, or "LTD" as he was known, was one of the most influential players of all-time, making an impact in multiple eras of jazz. From the swinging 40s on the West Coast, to his time spent in Europe in the 60s, to his lauded American return in the late 70s, Gordon's discography is the stuff of legend.
"His first important gig was with Lionel Hampton (1940-1943) although, due to Illinois Jacquet also being in the sax section, Gordon did not get any solos. In 1943, he did get to stretch out on a recording session with Nat King Cole. Short stints with Lee Young, the Fletcher Henderson Orchestra, and Louis Armstrong's big band preceded his move to New York in December 1944 and becoming part of Billy Eckstine's Orchestra, trading off with Gene Ammons on Eckstine's recording of "Blowin' the Blues Away." Gordon recorded with Dizzy Gillespie ("Blue 'N' Boogie") and as a leader for Savoy before returning to Los Angeles in the summer of 1946. He was a major part of the Central Avenue scene, trading off with Wardell Gray and Teddy Edwards in many legendary tenor battles; studio recordings of "The Chase" and "The Duel" helped to document the atmosphere of the period.
After 1952, drug problems resulted in some jail time and periods of inactivity during the '50s (althoughGordon did record two albums in 1955). By 1960, he was recovered and soon he was recording a consistently rewarding series of dates for Blue Note. Just when he was regaining his former popularity, in 1962 Gordon moved to Europe where he would stay until 1976. While on the continent, he was in peak form and Gordon's many SteepleChase recordings rank with the finest work of his career. Gordondid return to the U.S. on an occasional basis, recording in 1965, 1969-1970, and 1972, but he was to an extent forgotten in his native land. It was therefore a major surprise that his return in 1976 was treated as a major media event. A great deal of interest was suddenly shown in the living legend with long lines of people waiting at clubs in order to see him. Gordon was signed to Columbia and remained a popular figure until his gradually worsening health made him semi-active by the early '80s. His third comeback occurred when he was picked to star in the motion picture 'Round Midnight.Gordon's acting was quite realistic and touching. He was nominated for an Academy Award, four years before his death after a very full life." (AMG). 
On the show we played three cuts, starting with a 1955 session with longtime friend and musical collaborator, pianist Kenny Drew, the title track from his Bethlehem Records LP, Daddy Plays The Horn. From there we played a couple of classics (how can you pick one?) from his Blue Note Records catalog. Starting with the opener from his seminal 1962 Go! LP – we played the opener, "Cheese Cake." And from there, another collab with the great Sonny Clark, the closer from another sublime '62 session: A Swingin' Affair, "McSplivens."
HBD LTD.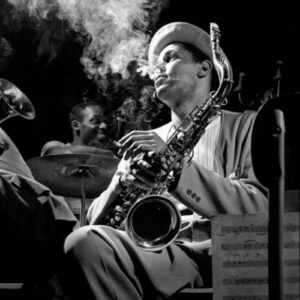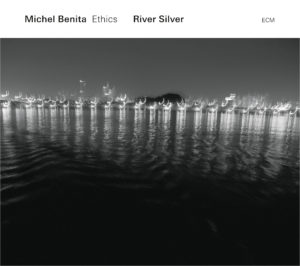 On the second set, DJ Achim opened things up with brand new music from bassist Michael Benita and his new record River SIlver (ECM, 2016).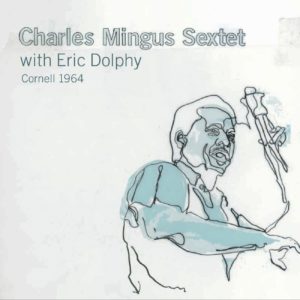 By mid-set, he played a cut from one of the most exciting archival releases of the last twenty years, The Charles Mingus Sextet's Cornell 1964. "In 2007, courtesy of Charles Mingus' widow Sue, with the help of Michael Cuscuna and Blue Note, gives us another heretofore unknown bit of jazz history with the Charles Mingus Sextet with Eric Dolphy's Cornell University Concert from March 18, 1964. The reason this gig is significant is because apparently, not only didn't anybody know it was recorded, according to Gary Giddins, who wrote the (typically) excellent liners here, no one but the people who put on the show and the students who attended even knew it had taken place! The other reason for its historic importance is that it took place 17 days before the famed Town Hall concert and predated other European shows by the band by at least a month. This is significant because trumpeter Johnny Coles took ill shortly after, and Dolphy passed away a few months later. Until now, the Town Hall gig was the standard for this band, but it is safe to say with this current revelation that it will be replaced in the annals of the canon. This band — Mingus, Dolphy,Coles, Jaki Byard, Dannie Richmond, and Clifford Jordan — played perhaps definitive renditions of some Mingus tunes worked out previously at the Five Spot where he assembled the group, and were presumed to have first been performed, and recorded, at Town Hall. Much of the material was also performed on the European tour that followed and climaxed with an appearance at the Monterey Jazz Festival." (AMG).
Achim played Mingus' notorious and scathing half-hour epic, Fables of Faubus featuring stunning work by the whole band and notably Dolphy, who tended to steal any stage he was given.  KTRU Sunday Jazz is on every Sunday, from 2-7pm on 96.1 FM Houston and online here at ktru.org.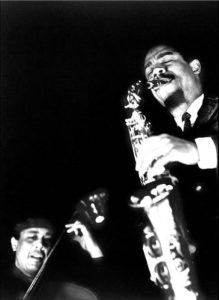 (Charles Mingus & Eric Dolphy)