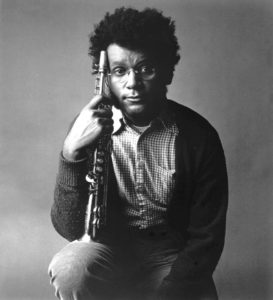 On Sunday Achim spun a diverse, complex and varied set of artists, and if you know the show, you'd expect nothing less. He played spiritual cuts by John Coltrane and Nat Birchall, the heavy fusion of Miles at the Fillmore East, vocal tip-toeing from the great Greg Porter and much more.
But one of the highlights of the show was when Achim spun an artist whose very name evokes rampant discussion in the jazz world and the avant-garde community as a whole, Anthony Braxton.
Achim played Braxton's piece "No. 170f (+138c+106g+119d+99d+119f)" from the album Wesleyan (12 Altosolos) 1992. 
Millennials may simply know him better as the father of Tyondai Braxton, guitarist, keyboardist and vocalist with the rock band Battles.
"Braxton's music is difficult to categorize, and because of this, he likes to refer to his works (and the works of his collaborators and students) as simply "creative music". He has claimed in numerous interviews that he is not a jazz musician, though many of his works have been jazz and improvisation oriented, and he has released many albums of jazz standards. For example, in an interview Braxton explains, "even though I have been saying I'm not a jazz musician for the last 25 years; in the final analysis, an African-American with a saxophone? Ahh, he's jazz!""
"Braxton is notorious for naming his pieces as diagrams, typically labeled with cryptic numbers and letters. Sometimes these diagrams have an obvious relation to the music – for instance, on the album For Trio the diagram-title indicates the physical positions of the performers, but in many cases the diagram-titles remain inscrutable. The titles can themselves be musical notation indicating to the performer how a piece is played. Sometimes the letters are identifiable as the initials of Braxton's friends and musical colleagues.
Braxton has pointedly refused to explain their significance, claiming that he himself is still discovering their meaning. Braxton eventually settled on a system of opus-numbers to make referring to these pieces simpler, and earlier pieces have had opus-numbers retroactively added to them.
By the mid-to-late 1980s, Braxton's titles had become increasingly complex. They began to incorporate drawings and illustrations, such as in the title of his four-act opera cycle, Trillium R. Others began to include lifelike images of inanimate objects, namely train cars. The latter was most notably seen after the advent of his Ghost Trance Music system.
In the twenty-first century, he still actively performs with ensembles of varying sizes, and has to date written well over 350 compositions. He has just recently finished the last batch of Ghost Trance Music compositions, and has now shown his interest in three other music systems: The Diamond Curtain Wall Trio, in which Braxton implements the aid of the computer audio programming language SuperCollider; Falling River Musics; and, most recently, Echo Echo Mirror House music, which is meant to hone in many different types of performance arts in addition to music. In addition to their own instruments, musicians playing Echo Echo Mirror House compositions incorporate amplified mp3 players loaded with Braxton's discography to create a unique sound-space." — Wikipedia
His body of work is staggering, and overwhelming to say the least, for any jazz fan, novice or no. But if you're interested in dipping a toe into his universe, start with some of his earlier works with Woody Shaw, his '72 album for the French label America or his work on SteepleChase (his later interpretation of "Donna Lee" on the contrabass clarinet, working with Tete Montoliu and NHOP, is something to be heard).
Braxton is a fascinating figure and a composer whose work will be studied and reinterpreted for years to come.
KTRU Jazz is proud to spread the word.