(Fats Navarro)
Another one. Another one. Sunday Jazz was on and poppin' yesterday. Where else can you hear Benny Goodman Live at Carnegie Hall, followed by Eric Dolphy & Booker Little Live at The Five Spot? We spun rare original wax – like Shirley Scott with Stanley Turrentine's "Gravy Waltz" from the album "Soul Shoutin'" (Prestige Records, 1964) –  gold label with the Van Gelder stamp in the deadwax – full, lush sound; a thing of beauty.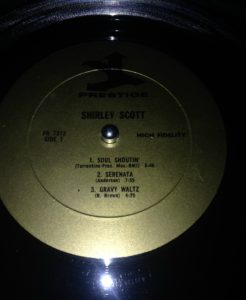 (Sam's OG copy of Shirley Scott's "Soul Shoutin" with the coveted "VAN GELDER" stamp in the deadwax)
We said happy birthday to Fort Worth native Ornette Coleman, we spun some top-shelf fusion from Bennie Maupin's '77 classic, "Slow Traffic To The Right." We heard from Wynton Kelly and from harpist Dorothy Ashby. But one cat who got some shine is a name that many forget when rattling off the great trumpet players of all time, Fats Navarro.
Theodore "Fats" Navarro (who was also nicknamed "Fat Girl" by his friends) was born in 1923 and was dead by 1950. In that short time he left behind a musical legacy that put him in the ranks of the greatest bebop trumpeters, alongside Howard McGhee, Clifford Brown and Miles Davis.
"Navarro was born in Key West, Florida, of Cuban-Black-Chinese parentage. He began playing piano at age six, but did not become serious about music until he began playing trumpet at the age of thirteen. He was a childhood friend of drummer Al Dreares. By the time he graduated from Douglass high school he wanted to be away from Key West and joined a dance band headed for the midwest.
Tiring of the road life after touring with many bands and gaining valuable experience, including influencing a young J. J. Johnson when they were together in Snookum Russell's territory band, Navarro settled in New York City in 1946, where his career took off. He met and played with, among others, Charlie Parker, one of the greatest musical innovators of modern jazz improvisation. But Navarro was in a position to demand a high salary and did not join one of Parker's regular groups. He also developed a heroin addiction, tuberculosis, and a weight problem (he was nicknamed "Fat Girl"). These afflictions led to a slow decline in his health and death at the age of twenty-six. Navarro was hospitalized on July 1 and died in the evening of July 6, 1950. His last performance was with Charlie Parker on July 1 at Birdland.
Navarro played in the Andy Kirk, Billy Eckstine, Benny Goodman, and Lionel Hampton big bands, and participated in small group recording sessions with Kenny Clarke, Tadd Dameron, Eddie "Lockjaw" Davis, Coleman Hawkins, Illinois Jacquet, Howard McGhee, [Charles Mingus] and Bud Powell."
We spun a cut from Navarro's time with The Tadd Dameron Sextet. Recorded in 1947 – the band featured Dameron as the leader on piano, Charlie Rouse on tenor, Ernie Henry on alto, Navarro on trumpet, Nelson Boyd on bass, Shadow Wilson on drums. "Our Delight," one of Dameron's many classics, comes from a posthumous collection called "The Fabulous Fats Navarro" Vol. 1 (Blue Note Records, 1957).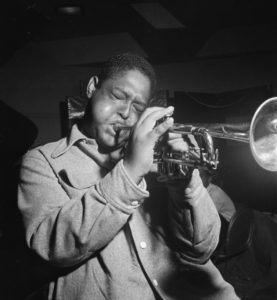 (Fats Navarro)
Listen to the track HERE.
You can listen to a playlist of the whole first set HERE.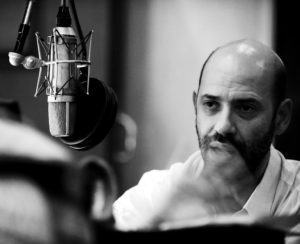 (Guillermo Klein)
On the second set, DJ Achim quenched the avant-garde thirsts of our audience with cuts by Ivo Perelman & The Sirius Quartet, Michael Formanek & Ensemble Kolossus and John Coltrane. He also played a couple cuts by Guillermo Klein, who's coming to Houston.
The Da Camera group is presenting Guillermo Klein y Los Guachos – a fantastic 11-piece band that bridges jazz, the music of Argentina and other genres, live at the Cullen Theater on Saturday, March 19th at 8pm.
You can check out Klein HERE.
For tickets go to http://www.dacamera.com/
KTRU SUNDAY JAZZ IS ON INSTAGRAM AT https://www.instagram.com/mingus.sushi/