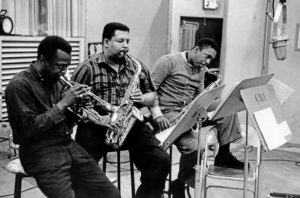 (The Greatest Front Line in the History of Jazz: Miles, Cannonball & Trane – Probably 1959)
The Sunday Jazz Show was hittin' yesterday; smokin', heavy stacks jack. You can't catch us. Most of the show was all vinyl, with some minor exceptions – like the new Larry Young release – Live in Paris 1964-65. We played some Blue Note hidden gems and some rare wax from Prestige Records.
Towards the end we did an ALL COLTRANE SET. Sort of. An excuse to play some fantastic tunes; Trane hitting his stride or straight up in his prime.
We started the set with a tune that was not only groundbreaking for the times; but was an omen of things to come. From 1958, The Miles Davis Sextet's "Sid's Ahead," from the seminal "Milestones" LP on Columbia.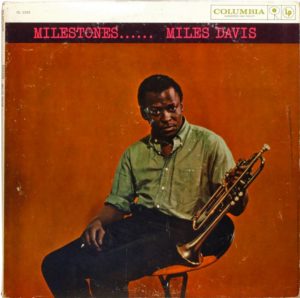 Trane released his first album as a leader in 1957, "Coltrane" for the Prestige label. Between his work with Thelonious Monk and and his work in Miles Davis' Quintet – he was making a major name for himself on the scene.
Surely a maneuver to capitalize on a budding star, Prestige started releasing previously recorded sessions under Trane's name as a leader. The next cut we played came from a '57 recording session, released as "Cattin' With Coltrane and Quinichette" (Prestige, 1959). Dueling tenors of Paul Quinichette (from Duke Ellington's band" along with pianist Mal Waldron, bassist Julian Euell and drummer Ed Thigpen. We spun the cut "Sunday," perfect for the Sunday Jazz Show.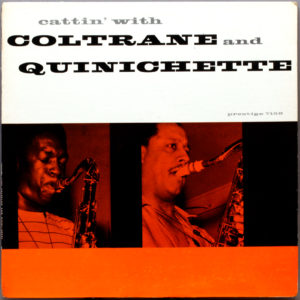 From there, we played a rarity. An alternate take on Coltrane's great ballad, written for his then-wife, "Naima." Recorded for the Atlantic label and released on the album "Giant Steps" (Atlantic Records, 1959), the song has often been called the greatest ballad in the history of jazz. It's been recorded and covered literally thousands of times since it was first released, and we were excited to pull the album "Alternate Takes" from our KTRU archives and spin such a special cut, to slow it down a bit. The version reveals just how thought-out the melody was when he finally went into the studio. The only real changes come when it's time for him to cut loose – just a touch here – and follow his own muse. A beautiful track. It can be heard on the Atlantic Box Set: "The Heavyweight Champion."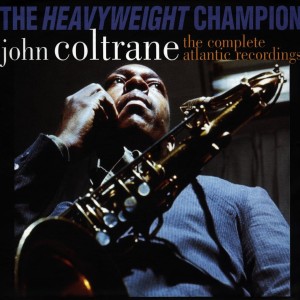 Lastly we went to a real blowin' session. From another 1957 recording session for Prestige Records, Wheelin' & Dealin' is an album credited to The Prestige All Stars, a group including John Coltrane, Frank Wess and other jazz musicians who were under contract with the Prestige label. It was originally released in 1958 as PRLP 7131. We spun the second cut, "Wheelin'" – an 11-minute burner that left the turntables scorched.
You can listen to a playlist of yesterday's whole first set – including the tracks discussed in this post, by clicking HERE!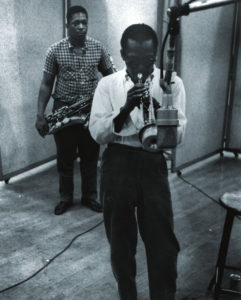 (Miles Davis, Front, as Trane watches. – Probably 1958 or '59).
On the second set, DJ Achim played a rare epic, Noah Howard's "Mount Fuji" from the album The Black Ark (Freedom Records, 1969). The Allmusic review by Brandon Burke awarded the album 4 stars stating "While The Black Ark…presents Howard in a new setting with a number of interesting avant-garde players…Easily recommended for fans of the 1969 BYG/ESP free jazz scene".
The Penguin Guide to Jazz nominated the album as part of its "Core Collection" of recommended jazz recordings.
All About Jazz stated "By 1969, Howard was terrifyingly good: as a player, composer and bandleader. The four originals which make up The Black Ark—a mutant blues, a free jive samba, a cod-Japanese "ying-tong" melody and a wonderfully lyrical ballad—are catchy and hummable, at a time when most free jazz rejected tunes and structures".
You can listen to the cut Achim played by clicking HERE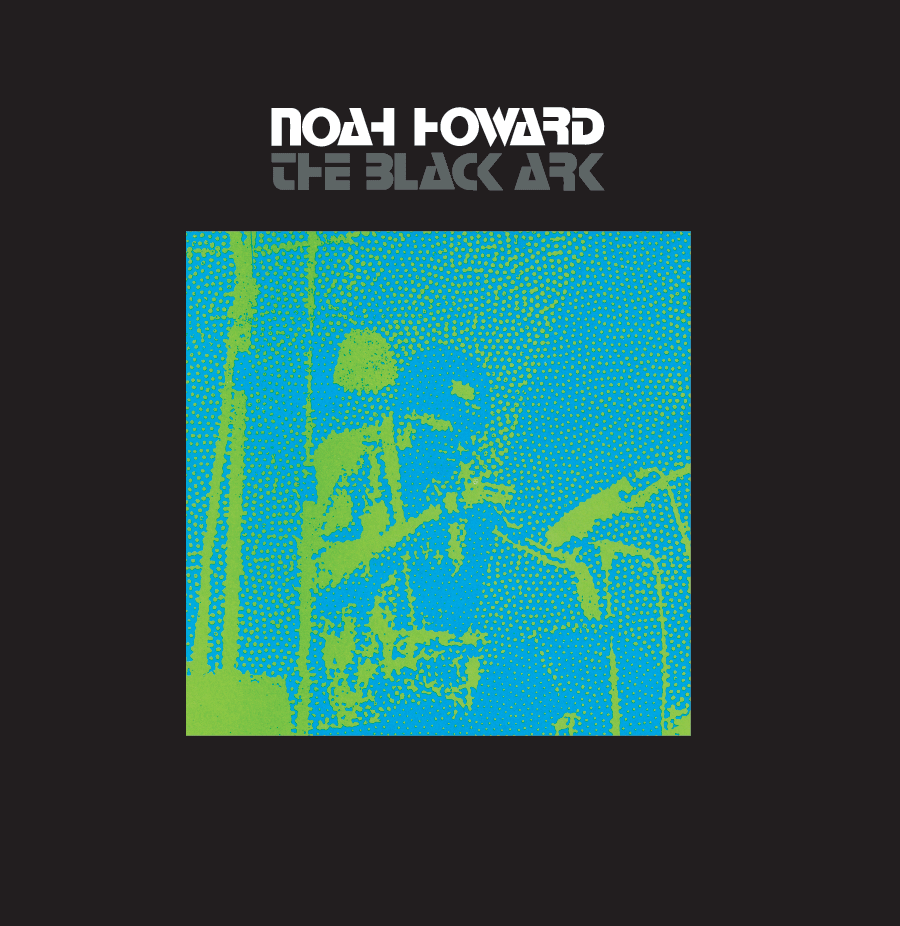 You can catch the KTRU Sunday Jazz Show every Sunday at 2pm CT on 96.1 FM Houston and online right here at ktru.org
We're also on IG at https://www.instagram.com/mingus.sushi/