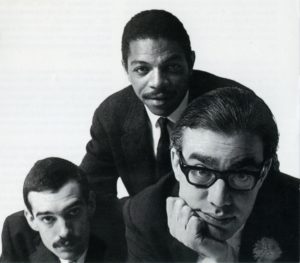 (L-R: Steve Swallow, Pete La Roca, Steve Kuhn)
The Sunday Jazz Show laid some epic tracks for all our dear friends. We had callers who needed some Dizzy, and we obliged. We had played a cut from Joe Albany's last session, and Paul Bley's first (as a leader anyways). We played Archie Shepp's ode to losers and Nat Adderley's ode to workers. We played some Clark Terry because we just recently watched the documentary on Netflix – which was really a beautiful portrait of the legend in his twilight. We also got to spin, almost inadvertently, a player who is a favorite of the Jazz Team: pianist Steve Kuhn.
" [Kuhn] began studying piano at the age of five and studied under Boston piano teacher Margaret Chaloff, mother of jazz baritone saxophonist Serge Chaloff, who taught him the "Russian style" of piano playing. At an early age he began improvising classical music. As a teenager he appeared in jazz clubs in the Boston area, gigging with the likes of Coleman Hawkins, Vic Dickerson, Chet Baker, and Serge Chaloff. After graduating from Harvard, he attended the Lenox School of Music where he was associated with other future jazz greats such as Ornette Coleman, Don Cherry, and Gary McFarland. The Lenox School boasted a supportive faculty that included George Russell, Gunther Schuller, the Modern Jazz Quartet members, and Bill Evans. This allowed Kuhn to play, study, and create with some of the most forward-thinking innovators of jazz improvisation and composition; it culminated with his joining trumpeter Kenny Dorham's group for an extended time and (briefly) John Coltrane's quartet at New York's Jazz Gallery club.."
The first cut we played come's from drummer Pete La Roca's debut session as a leader – "Basra" (Blue Note, 1965). The Allmusic review by Scott Yanow awarded the album 4½ stars and stated "It is strange to realize that drummer Pete La Roca only led two albums during the prime years of his career, for this CD reissue of his initial date is a classic." Indeed it is – as it's also basically another Joe Henderson Blue Note album from the early '60s. If you are familiar with Henderson's work, you know that basically everything he did in that decade was stunning, near flawless and absolutely essential to a strong jazz collection. The album is a simple quartet, "led" by the drummer, La Roca, joined by Henderson on his tenor sax, Kuhn on piano and the great Steve Swallow on bass. Just by reading the names you can assume the album will be strong, but what's left is an absolute classic in the Blue Note catalog (and there are countless) and one that fetches wild prices for an original vinyl copy – naturally. But this record, short at six cuts, is all killer and no filler. We played the song "Lazy Afternoon."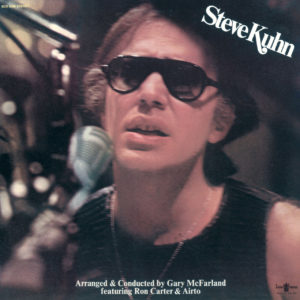 (Kuhn's 1971 self-titled album for Buddah Records goes for over $100 online)
Later in the show we played "The Baby," the opener to the B-Side of Kuhn's self-titled 1971 LP for Buddah Records (which also fetches high prices for an original). The album is yet another classic and sounds like almost nothing we've ever heard. Kuhn sings on a couple of tracks (and it's actually really great, his low, smokey and shaky voice never trying too hard). It's certainly of it's times, featuring Kuhn on electric keys and Fender Rhodes, joined by Ron Carter on bass, Billy Cobham and Airto on percussion, and a string quartet arranged by none other than Gary McFarland. A wonderful record we can easily and highly recommend. Dark, funky, searching. It's sought-after by collectors for a reason.
You can listen to a playlist of the entire first set on YouTube! CLICK HERE for a heavy does of jazz goodness.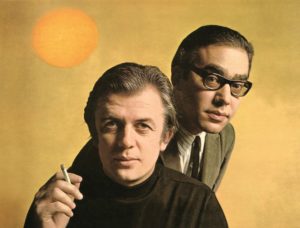 (Gary McFarland & Steve Kuhn)
On the second set (5-7pm), DJ Achim brought in brand new music; not your grandfather's big band. The new album from Michael Formanek's Ensemble Kolossus: "The Distance" (ECM, 2016). AllAboutJazz.com's Mark Sullivan awarded the album 4 1/2 stars and said: "The Distance is a remarkable achievement, which Formanek's smaller ensembles have only hinted at." Downbeat gave the album 5 stars and it's currently receiving quite a bit of buzz internationally, as just about every ECM release can do. Achim played the cut "Exoskeleton parts 1-3." You can listen to preview of the album here, thanks to the good people at ECM Records.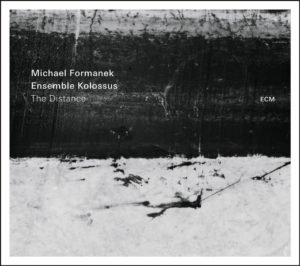 Sunday is Jazz Day on KTRU.
Be sure to check us out each week from 2pm to 7pm on 96.1 FM Houston and online at KTRU.org.
We're on Instagram @ mingus.sushi – send us a note if you want to hear something!