By BenJ, photos by CarsonA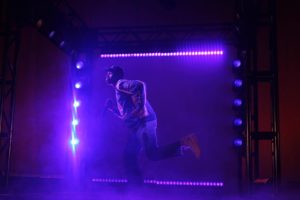 Tyler, the Creator is childish. He seems to take pleasure in the frightening effect of his gnarled beats and growling rhyme style. When he was accused of homophobia, he filmed himself kissing another man. In 2014, when he played for a packed crowd at SXSW, he was arrested for inciting a riot.
That's why this year's Flower Boy came as such a surprise. The album, which tackles topics like loneliness, fame, sexuality, and depression, finds Tyler's sound evolving in a melodic and soulful direction. The risks he took won him a bevy of followers who helped sell out last week's show at Warehouse Live. One of those new fans was me.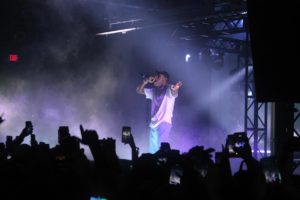 After a short DJ set from Odd Future member and glorified groupie Taco, the crowd was ready. From the moment the curtain dropped until the end of the set, every bar out of Tyler's mouth was accompanied by a chorus of devoted fans who knew all the lyrics. Tall, short, light, dark, boy, girl, young and even younger, they all came decked in their finest Golfwang apparel to see their hero deliver his painfully honest thoughts on the struggles of love and identity. That night, Tyler proved that Flowerboy stands as the best album of 2017.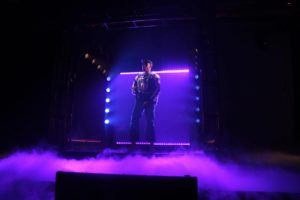 For an artist known for bombastic performances, Tyler's set was surprisingly mellow. The crowd, more packed than I've ever seen at Warehouse before, swayed along to the smooth bass grooves of Flowerboy tracks like "Pothole" and "Boredom." You haven't known joy until you've been in a room full of people screaming Frank Ocean's "Chirp Chirrrrp" chorus on "Where this Flower Blooms" at the top of their lungs. Drenched in primary colors onstage, Tyler demonstrated the versatility of his catalogue by serving up several tracks from Cherry Bomb and Wolf. Tuneful neo-soul ballads like "FUCKING YOUNG/PERFECT" and "48" could have been Flowerboy b-sides.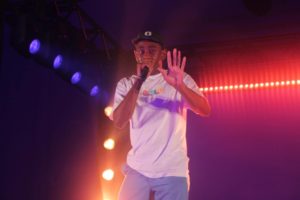 It's not a Tyler show without some raging. The frantic beats of "DEATHCAMP" and "I Ain't Got Time!" got the pit going. And from the opening horror twinge until the closing engine roar, Tyler delivered "Who Dat Boy" in a furious growl which threatened to burn the whole place down. Truly the greatest banger of 2017.
But the highlights of the night were surprisingly tender. I wasn't sure whether to dance, mosh, or cry when the "911/Mr. Lonely" chorus "I can't even lie, I've been lonely as fuck" descended into the song's syrupy beat. The set ended with Tyler leading the crowd in a joyous rendition of his unexpected radio hit "See You Again." Tyler will return to Houston in December for Day for Night Festival. Until then, we will all have to wait to see him again.