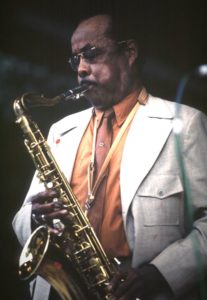 (Buddy Tate)
This week we're doing a series of posts this week on Texas Tenors. What is a Texas Tenor?
There's a brotherhood of tenor saxophone players from in and around the Lone Star State who, over time, have been grouped together for their similarity in sound – to a point – a style that over the years has become known plainly as the Texas Tenor.
"The Texas Tenor style" is defined by Ted Gioia in The History of Jazz as "a blues-drenched tenor sax style … characterized by honking', shoutin', riffin', riding high on a single note or barking out a guttural howl."
Cannonball Adderley once described the Texas sound as "a moan within the tone."
This week we'll be talking Texas Tenors and posting some tunes. Can you dig it?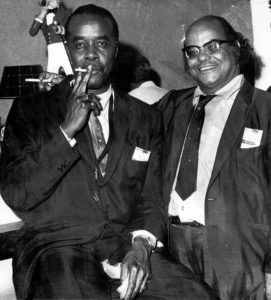 (L-R: Buddy Tate & Milt Buckner)
Next in our series is Buddy Tate.
"Tate was born in Sherman, Texas, and began performing on alto saxophone. As a teenager in 1925, he played with his brother and their band called McCloud's Night Owls." Tate quickly switched to tenor saxophone making a name for himself in bands such as the one led by Andy Kirk. He joined Count Basie's band in 1939 and stayed with him until 1948. He had been selected by Basie after the sudden death of Herschel Evans, which Tate stated he had predicted in a dream.
After his period with Basie ended, he worked with several other bands before he found success on his own, starting in 1953 in Harlem. His group worked at the "Celebrity Club" from 1953 to 1974. In the late 1970s, he co-led a band with Paul Quinichette and worked with Benny Goodman."
"Tate was one of the great tenor saxophonists of the swing era, a superbly sophisticated ballad player influenced by both the diaphanous tone of Lester Young, his section mate in the Basie orchestra, and by the urgency and rhythmic muscularity of Coleman Hawkins. These traits could be heard in his first recorded solo with Basie's band, "Rock-a-Bye Basie" from 1939, which Mr. Tate felt was one of his best. His force and his flights into the horn's high registers identified the Texas tenor style, also exemplified by the saxophonists Arnett Cobb and Illinois Jacquet."
"In the 1950's Tate played with Lucky Millinder, Jimmy Rushing and Hot Lips Page, and in 1953 he began to lead his own band, which played a regular show at the Celebrity Club in New York for more than 20 years. He worked often in Europe, playing with Jim Galloway, Jay McShann and Al Grey.
In the late 60's he recorded in France with the organist Milt Buckner and the drummer Wallace Bishop. He and the saxophonist Paul Quinichette were co-leaders of a band at New York's West End Cafe; Mr. Tate led another band with the drummer Bobby Rosengarden at the Rainbow Room in the 70's."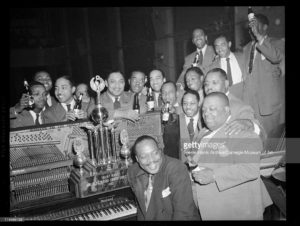 (Buddy Tate in the middle in glasses, with the Count Basie Orchestra)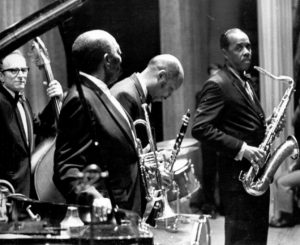 (Buddy Tate far right)